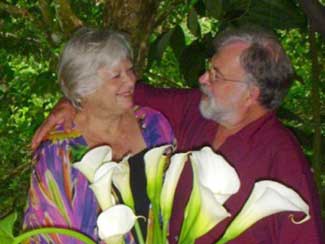 Since 2012 is the year I turn 70, I wanted to have a party. It just seemed right to celebrate those decades, and 70 seemed really celebratory. Frank and I talked about various scenarios and my great friend, Linda made a few suggestions, too.
Simultaneously Frank and I continued our casual conversations about honoring our commitment in marriage. After 3 years together we were sure of our relationship and open to defining a marriage but not sure when or how.
Eventually, the two celebrations became intertwined and then we really started to have fun. Publicly we would invite lots of folks for my birthday party and secretly we decided to add an additional surprise by getting married during the party. We started sneaking around our little town looking for matching wedding rings, talking to attorney, Ana Vargas about a civil wedding and had a good laugh shopping at Ropa Americana for our wedding clothes! For those of you unfamiliar with Ropa Americana, the several stores about town are destinations for rejected clothing from the U.S. I am told that there are huge barges that bring the discarded clothing to Latin America. Often some pretty wonderful things can be found for a few bucks at Ropa Americana. Frank found his shirt and pants – and I found a great black top! Black? Oh yes. Even wedding dress designer extraordinaire, Vera Wang has a black wedding dress collection and I'm quite sure one of her creations costs a lot more than my ensemble. We only told our chosen two witnesses, Linda and Suzanna and those friends who lived farther away from San Isidro so they might be urged to do the extra driving to be at our wedding.
We decided that Dec. 7 Pearl Harbor day was just right – Friday at noon, just 2 days before I turned 70 and not on my son, Mike's Dec. 8 birthday. The invitations would be for a birthday party to be held at Papas de Paramo. Papas was a favorite place to eat and just downhill from my house along a Costa Rican back road. I knew all the folks there well because it is where I hold watercolor workshops – and we knew that the restaurant and full bar would be perfect. The ceremony itself would be just outside in one of the simple cabanas with the sound of the river below and all the beautiful tropical flowers and trees surrounding us. We decided on a buffet presentation where everyone would pay for their own meal of 4500 colones ($9.00) and would be offered vegetarian and chicken quesadillas, pasta salad, green salad and fruit punch. Each table would have chips and pico de gallo. Estevan and all our favorite waiters at Papas got into the excitement of preparations for my birthday that would transform magically into a wedding party. Evan even placed torch ginger flowers into the potted plants!
Invitations were sent out and we counted down the days, hoping that the seasonal change from wet season to dry would enable a sun filled day for our birthday/wedding. The day before i bought armloads of calla lilies at the local market. These elegant blossoms are some of my favorite flowers! Everyone was asked not to bring gifts but instead to consider a donation to a local non-profit, Kids Saving the Rainforest.
The day dawned with a lovely sunrise and it felt like summer had arrived! Frank drove from his farm early and we did all our last minute preparations at my place. By 11 we were at the restaurant placing flowers and directing the table positioning in time for the 12 noon arrivals! And the day moved effortlessly forward with lots of hugs, kisses, greetings and lunch. As we finished eating, I stood to thank everyone for coming to help celebrate my birthday in the best way – as friends eating out for lunch. Then I turned to Frank and asked if he had anything to add. He did. To squeals of surprise and joy, Frank talked about our decision to honor our relationship. Just as some were wondering if we were getting engaged, he went on to say that Ana Vargas would arrive in 20 minutes and we would be married in the cabana just behind us. The birthday celebration morphed into a wedding party with people toasting, drinking and hugging. I looked around. What a great group of folks. Our friends' attires varied from shorts and T-shirts to long dresses. Evan, one of the waiters even wore something that looked suspiciously like a white, formal tuxedo shirt! And the music I had going on my dock and ipod varied from Elvis and the Beetles through Cat Stevens, the 5th Dimension, Creedence Clearwater and Johnny Mathis…Until the 12th of Never……
Ana arrived precisely on time – with her glorious smile and Tica beauty, and made her way through the partiers to the cabana, talking with various people she knew along the way.
The wedding spot was ready in 10 minutes – with something old, something new, something borrowed, something blue respectively as Frank's mother's white antique tablecloth, our rings, my borrowed ear rings (from Linda) and my periwinkle blue antique vase with the white calla lilies set in the center on the table. As the ceremony began in the cabana there was a very light misty rain falling – softer than I've ever seen in Costa Rica and I knew there was a rainbow nearby.
Earlier Ana had given us some choices for wording of our vows and ring ceremony. We wanted it simple and straightforward. In the end we changed a few things and came up with these simple words.
Ana
Good Afternoon….
For all of us gathered here together, Jan and Frank have invited us here today to share in the celebration of their marriage — their wedding.
It is fitting to speak briefly about love. We live in a world of joy and fear and search for meaning and strength in the seeming disorder. We discover the truest guideline to our quest when we realize love in all its magnitudes. Love is the eternal force of life. Love is the force that allows us to face fear and uncertainty with courage.
The giving of yourself in love is difficult, for you must learn to give of your love without total submission of yourself. Therefore, in your giving, give your joy, your sadness, your interest, your understanding, your knowledge — all expressions that make up life. But in this giving, remember to preserve yourself — your integrity, your individuality. This is the challenge of love within marriage.
Jan and Frank, you are marrying because each of you can grow in humanity and in love more fully while touching the other. You are marrying because you can be more trusting of life as life mates. Keep this understanding of your marriage fresh and alive in the days ahead.
We have with us Suzanne Leff and Linda Bass as witnesses of this celebration. I ask you both, do you believe that Jan and Frank are each here fully present and agreeing to be married?
Wedding Vows
Please repeat after me – I, [name], choose you [name] to be my life partner in marriage, to respect you in your successes and in your failures, to care for you in sickness and in health, to nurture you, and to grow with you throughout the seasons of our life together.
Ring Ceremony
Please repeat after me.
I, (name) give you (name) this ring as a symbol of my love, my faith in our strength together, and my promise to learn and grow with you. (We each say a couple words of our own here)
Introduction
I now introduce Jan Hart and Frank Thompson as full life mates.
Though the ceremony was solemn and special, it was certainly not without levity!
At one point during the ceremony while I was repeating my vows, Frank leaned over to kiss me. Ana said emphatically, 'Not yet!' to which Frank responded, 'I didn't know there were rules!" Everyone laughed, even Ana. In the second photo I believe I was having trouble hearing Ana's words that I was to repeat. Frank was trying to help by whispering my words. Finally I said, 'I cannot hear! Ana, you are speaking towards my bad ear!" We all laughed that time! Ah, the problems with old folks getting married! I think another suitable, yet un-uttered caption for the second photo could be, 'Did you say obey?'
After the ceremony we rejoiced and rejoined the party! And suddenly there was a birthday cake brought out with 7 candles which I successfully blew out all at once. And while catching my breath, a wedding cake festooned with a truly Costa Rican cake top appeared! The cakes were cut, we laughed, ate and just simply had a good time.
The best part of the day for me was a realization of just how much my life here had changed and grown. I suddenly saw that every person there was special to me. And I had known none of them longer than 4 years. Suddenly I got it.
We carry our relationships with others deep within our hearts and souls. Time means nothing and each relationship is special and touches a part of ourselves. When Frank and I came together it felt like we had known each other a lifetime. We married to honor the relationship while we continue to honor our individuality – passions and times we spend apart. Frank continues to live most of the week at Finca La Puebla, his wonderful organic farm while I continue to live above the clouds at Casa de Corazon. When we come together, often at my place, we love to sit out on the infinity deck with glasses of wine and just continue our conversation.
It took me 70 years to finally get it! Better late than never?!