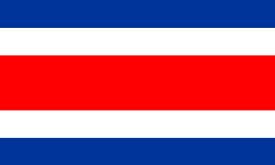 It feels a lot like I washed up on a Costa Rican shore on Christmas Eve, having barely survived a shipwreck. Perhaps a bit dramatic, but the shipwreck was real. It was 2008 and I'd survived medical bankruptcy, a resistant staph infection in my spine, addiction to pain medication and home foreclosure. I was starting over in Costa Rica at age 66, alone and with $25,000.
When I came to the realization in early 2008 that I needed to start over somewhere else I made a list of my priorities. Though I had loved New Mexico and my 15 years there – I realized my relocation would be difficult anywhere on my social security. So I thought carefully about life priorities:
affordable health care
a simple house with no need for heating or cooling
community and also privacy
nature all around me
healthy food available
full, quiet life with time for all my interests
We've heard it often said that you need to be careful what you ask for. In my case, I got everything plus. I selected southern Costa Rica because I thought it might come closest to answering all my priorities…
Affordable Health Care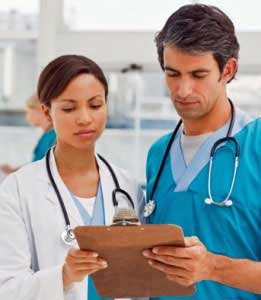 In 1996, a rare staph infection nearly killed me and left me with limited mobility and a $250,000 medical debt. Bankruptcy followed and no chance of qualifying for affordable medical insurance ever again. I saw myself as a medical refugee from a health care system that worked beautifully only if you had money – and terrified you if you didn't. I wanted to live where there was a national health care system and not be turned away because of a pre-existing condition or lack of money. The truth is that I have no idea how well I'll be cared for in Costa Rica if I have a serious medical issue. But I rest easy because I know I won't be turned away or get a huge bill.
Like all foreigners who have legal residency here, I have full health care coverage with no pre-existing condition exemption for under $100/month. There are also private hospitals and private 24 hour clinics that provide full services for a fraction of what it costs in the US.
A simple house needing no cooling or heating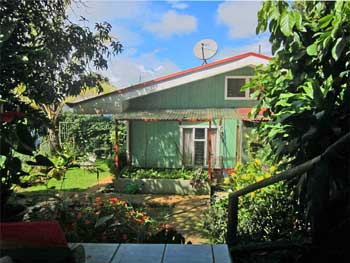 I got very lucky with the house – an old, run down Tico house on a quarter acre with a view out over the city of San Isidro de El General. My $25,000 was matched by one of my sons – and we bought it! It had the requisites – water, electricity, a land line phone that would provide internet. And best of all – at 3700 ft. elevation the temperature range YEAR AROUND, rain or shine was high 60's to low 80's. A simple ceiling fan was all I needed for comfort. Though there was nothing there beside the house and the trees, it was a perfect place for me and my dogs and parrots to be in the early days of 2009. I would figure out how to make the money to build the things I wanted – cabinas, outdoor studio, house remodeling, etc.
Community

My house was also a part of the Tico community of San Rafael Norte. My neighbors live along the winding, steep road above the town center with its church, store, soccer field, school and community building. Anita, who sold me the house, became a daughter to me. She told me that if I bought the house, she would clean it and paint my toenails and she is still doing it. Of course I have 'Gringo friends', other ExPats I get together with, but it is my Tico neighborhood that brings me my daily interaction (in Spanish), many laughs and shared comforts. I have turned to them for the help I've needed. Cesar built the aviary and cabinas. Oscar created the outdoor kitchen and studio, and rebuilt my Tico house – raising the roof, moving some walls, creating tiled counters and a comfortable home I love. He also created my outdoor shower. Billy cares for my plants and brings me healthy black soil for my organic garden. My neighbors and friends have taught me so much about living simply and gratefully. That said, I do appreciate my privacy, too. From my house I see no other houses and from my outdoor shower, I feel completely privacy except from the peering eyes of my talking parrots.
Nature all around
My house was surrounded by nature in all varieties! As a biologist in a 'former life', I loved the birds –wonderful laughing falcons, kites and vultures swooping through while toucans, tanagers, kiskadees and mot mots fly to the feeder and perch in the trees. By far my favorite mammals are the sloths that frequent my trees. I even welcomed those critters that many don't like so well – lizards, spiders, toads and snakes… I still remember Anita rolling her eyes when I asked her not to kill any of the spiders in the house. I told her that I made a deal with them. They could stay if they remained on the walls. If even one was found in my bed all of them would have to go. So far so good.
Healthy Food Nearby, Year Around
The access to healthy food has turned out to be probably the most important priority in my life. This is crucial, especially now that so much of the US food supply is threatened by GMOs, etc. Although I had access to seasonal farmer's markets in New Mexico, here the huge outdoor market feria operates once a week year around offering a variety like no other place – even in Costa Rica. Within 35 miles around San Isidro the land rises from the coast to the mountains and provides a wide array of foods – from seaside hot climate tropical fruits to high elevation cool climate crops like onions, potatoes, garlic and broccoli. All are available at the feria, just 10 minutes from my doorstep. Each week I get avocados (lots of them), tropical fruits, potatoes, greens, organic brown rice, sweet potatoes, ginger and turmeric root. Most are organic. I buy fresh eggs from my neighbor and go to the local grocery market only for paper goods, dog food, and some wine.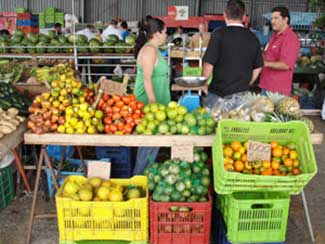 My fellow expats helped introduce me to healthy foods. One of the Gringos I met early on who knew a lot about organic gardening was Frank, a Canadian expat who came with his wife nearly 20 years ago and turned 12 acres of abandoned pastureland into a tropical organic paradise. He continued improving Finca La Puebla after Sue's death nearly 5 years ago and has an amazing bounty of fruit trees, chocolate, coffee, vegetable gardens and an endless supply of bananas. Frank really continued my education about the benefits of organically grown foods and the importance of nutrient rich soil.
As my diet improved, so did my health. When living in New Mexico I often chose fast foods and processed foods for quick meals. Typical of many other north americans I loved green chile burgers from New Mexico's Lotaburgers and "healthy option" submarine sandwiches. I thought I was being careful. Once here I began eating mostly a locally grown plant based diet that included almost no processed foods. My protein comes from avocados and fresh fish. Soon enough I lost weight and even tossed out my pharmaceuticals. I feel better than I have in at least 15 years.
Full, quiet life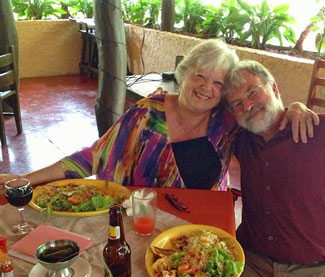 I got way more than I could ever imagine with this one.
I got the quiet place and I had plenty of time to paint and write and just BE. I found friends and loved my high speed internet that kept me connected me to my family and friends in the states. All was well and by 2010 I was especially enjoying the friendship I had with Frank as he taught me more about his beautiful farm while I shared my love of colors and nature. Then, to my complete surprise – we fell in love. For 3 years we enjoyed our wonderful compatibility and the fact that we never ever ran out of things to talk about. On December 7 of last year, we celebrated my 70th birthday at a gathering of friends at a nearby favorite restaurant. We pretty much shocked everyone that afternoon by also getting married! Our attorney, Ana Vargas arrived and we had a lovely and spirited surprise wedding ceremony! We'll celebrate our 1 year anniversary in just a few days.
Frank and I love our LAT (Living Apart Together) lifestyle – with him at his farm 4 days a week and at my house the other 3. We're making some changes, though. Now we're ready to build a little casita for Frank – just next to my house, where we'll continue our LAT lifestyle but with an easier commute that requires absolutely no gasoline..
Isn't it amazing when the ship wrecks in our lives toss us onto new shores and new life adventures?
Frank's Finca La Puebla is now for sale
A Unique opportunity to have it all!
Main house and 2 cabins with all utilities plus outbuildings, solar food dryer and spring fed swimming pool – ideal for a family or a group
12 acres of rich flatland includes established food gardens, mature fruit trees, coffee/chocolate/banana plantation and forest land. Year around water for irrigation
Secluded and private – 1/2 mile off paved road. Located just 20 minutes from San Isidro de El General near the town of Rivas.
Income producing property. Established volunteer/internship program. Great opportunity for selling coffee, chocolate, bananas and other farm produce
Click here for complete information about Finca La Puebla.  Frank would love to be able to share his knowledge and find ways to help the new owners get established.