November 2014
I woke with a heavy heart. Eight plus months since Frank passed and still, there are mornings when I wake to see nothing to look forward to and nothing to be appreciating.
I can change my viewpoint, but it takes a lot of effort. I was just tired of the effort. Compounding my heart weariness was my mind exhaustion.
I was especially tired of dealing with all the details and derailments around the sale of Finca La Puebla, Frank's farm. In his will, Frank had left his half of the farm to me along with the job of selling it, which he had begun. The other half of the farm ownership was with his stepsons in Canada. Upon Frank's sudden death, I was thrust into his place overseeing the farm volunteers, working with the farm manager, communicating with the stepsons, and continuing the effort to sell the farm. Three months into it I asked my friend, Jane who was an experienced realtor here to take over the sale and I would continue to follow up leads, communicate with potential buyers, etc. Our near success showed in two almost purchases with people who came to see the farm from the states – and now we were in a three month Due Diligence period with another couple from San Francisco. Our 'Due Diligence' tracked down details and discrepancies in the survey, the property boundaries, the water rights and the organic certification – things Frank had lived with for twenty years without a problem. We had adjusted the price on the property twice in response to what was found. The last straw appeared yesterday, just a day before the latest Due Diligence deadline. The Uso de Suelo, which Jane had ordered three months earlier, finally came back with a 'high risk' designation to include the entire farm, not just the 150 feet next to the river that we expected. It looked most likely that the buyers would certainly back out because the zoning designation would prevent any legal building permits to be issued for the farm. While those of us who live in Costa Rica do understand that many areas near rivers or elsewhere are designated in this manner and the standard response by everyone I know is to just go ahead and build since there are no official repercussions. Basically, the Municipality is saying 'We warned you". It is simply life in this part of Costa Rica and often difficult for 'First Worlders' to grasp.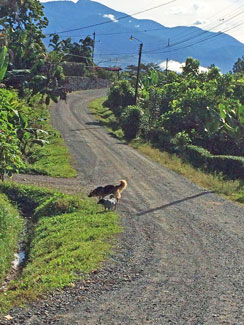 As I was drinking my second cup of coffee, the dogs bounded into my office in a frenzied exclamation that could only be understood as 'Let's go for a walk!' I decided why not – I was so tired of thinking and fretting (as Frank would say)…
I grabbed my iPhone, put on my shoes and locked my doors. Outside I opened the back door to the car and the dogs waited until I said 'Okay' to scramble in for our one-minute drive down to the flat road below the house. My short steep road was simply too difficult for me to navigate on foot. The dogs again waited for my okay and then leaped out of the car in sheer joy and exuberance. I watched them ahead doing what dogs so love to do – check out all the smells and scents!
My mind was still wrestling with life stuff.
I noticed a cow watching me and I stopped to look at her. She turned her head and beyond her quiet soft eyes was an interesting cast shadow displayed upon her red sun lighted body. I barely noticed the subtle reorientation in my focus as my artist eyes and mind stepped forward.
More shapes. Soft round shapes of hydrangea blossoms adjacent to the hard round shapes of stone. Sensory similarities and contrasts.
More shapes. Soft round shapes of hydrangea blossoms adjacent to the hard round shapes of stone. Sensory similarities and contrasts.
Soon I was noting the vibrant colors in my neighbor's houses against nature!
And with the colors, more associations. The tapestry of a neighbor's morning laundry in reds and white catching the morning sun just below the stripe of sky blue conjured the image of the Costa Rican flag!
My morning walk had now become a vibrant and surprising memory collage.
A banana blossom caught my eye. And suddenly I was walking with Frank on his farm when he first showed me the life cycle of bananas. Always the baby bananas are protected by one petal of the maroon flower until they grow larger, eventually turning themselves upward to become the familiar bunch of bananas we buy at the market.
Two plants ahead moved in the morning air and I saw them as neighbors or lovers, leaves intertwined. Walking a little closer I focused on just two that seemed to be reaching out to touch each other.
Instantly I was standing beneath the Sistine Chapel ceiling craning my neck to see Michelangelo's depiction of the moment of Adam's creation. My artist son, Jonathan and I had talked often about it and termed this near touching relationship between two like things or shapes in a painting, 'exquisite tension'.
There it was before me. Exquisite Tension in Costa Rican leaves.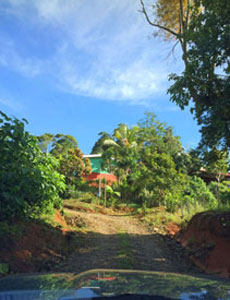 Back at my car, the dogs scrambled into the back seat and I turned the car around to head back up my steep hill toward home. Up ahead I could see Frank's casa in scarlet red and jade green painted to match the old Tico house I purchased in 2008.
I smiled to myself as we neared Frank's newly finished casa, perched on the edge of my property. I reflected for an instant on the eventful life I had lived in Costa Rica. My dearest Frank was no longer by my side in this life – but his house was there, always welcoming me home like he did.
What a wonderful morning walk. It had changed everything.
The next day a new offer was accepted for the sale of the farm.