November 2015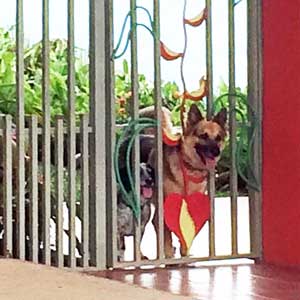 The day before New Year's Eve, Frank and I decided to stop by a shelter run by a Tica Veterinarian, Dra. Milena to look at dogs that needed rescue. It had been in my mind for awhile thinking that Seurat would enjoy a pal. We'd tried a few over the last 4+ years since Livvie's death, but none seemed to be a good fit. Dra. Milena was excited and said she knew just the dog – and explained that a man was taking care of her but would bring her over immediately. Randall soon arrived with a sweet, starving german shepherd mix who had recently given birth but no puppies found. He had noticed her wandering the streets in a neaby town and took her to his friend, Milena. Wasted to her bones, There was something in these lovely eyes that emplored Frank and me to return the next day, New Year's eve with Seurat. We felt he should have a say.
The meeting of the two dogs began on Dra. Milena's porch. I immediately renamed 'Riana' – Frida – for Frida Kahlo, the amazing Mexican artist who also suffered a painful early life. And the name would be in keeping with the artist name referrence I'd adopted with Seurat. I would often reply, 'Pointilist' when someone asked about Seurat's breed. Though only artists 'got it', it always made me smile. Seurat was immediately just fine with Frida – so we shrugged our shoulders and went home. When I put Livvie's old collar on her, Seurat jumped for joy!
We fell into a routine of 4 meals a day for Frida and a good start toward regaining her health. Seurat began training his new pal – took her out each morning to walk the road and check out all the new smells in the neighborhood. He even brought her back!
After about two weeks of steady improvement, Frida one day began walking unsteadily and appeared disoriented. One eye was filled with blood. We took her immediately to see Dr. Milena who diagnosed her with Erlichiosis or Canine Hemorrhagic Fever. A terrible blow. This is a potentially fatal blood parasitic disease carried by the brown tick. Frida, unfortunately was in the chronic phase with includes retinal hemorrhage. Dogs can often have the parasite with no visible evidence until it reaches the chronic stage, as with Frida. Dra. Milena armed us with antibiotics, blood and immune building capsules and we decided to do the best we could and not give up on this sweet girl who wanted only to live. Seurat watched watching her carefully, too.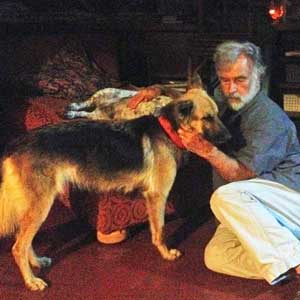 Frida fought back! After a week+ on antibiotics (which I was only able to get her to eat through trickery), she started acting more upbeat, gaining some weight and the retinal bleeding appeared not as often, permitting her to see and enjoy her surroundings. Her pal, Seurat stayed right there for her. He seemed to understand. Then one morning they began their serious business of playing! It is often just a blur or growls and occasional yelps and goes on a long time.
They are best friends forever, after all!
Frank loved Frida, reminding him of his first shepherd, Osa a long long time ago. It was lovely to see the bond these two developed.
And it continues to be lovely to see the bond between Seurat and Frida….