My Muse is Back
My appreciation of and enthrallment with color is helping me to see again. Look again. For nearly two years the colors have been more somber as I felt my way through the deep grief of losing Frank.
The first Intensive in December began the transformation – and it has continued through a big workshop and three more Intensives…
Here are some of the new sketches and paintings that say it all.
Leaves In Light, 2015
My Intensive students just had a few days and wanted most to study light and shadow. This demo included an approach to the subject of light as well as the background use of the 'dancing stroke' and glazing. It is almost finished – just a few more touches should do it. I love the repetition in the shapes. Four paints were used in this painting and Tetradic color scheme.
Palm Study, 2015
On an 8 inch square Ampersand Gesso Board I did this palm study. Fun, fast and loose I was especially interested in exploring different ways to deal with the too many detailed palm fronds and also the wonderful linear cast shadows on the coconuts, with the reflected light at their bases. I used any paints I wanted for this that still only included six. Ultramarine Turquoise, Nickel Azo yellow, Cobalt Blue, New Gamboge and Quinacridone Sienna. The 'hard' surface of the Ampersand Gesso Board makes it difficult to glaze – similar to painting on Yupo. Still – one can glaze very carefully…and I will likely do more of these.
Villa Leonor Sketch
While guests were out swimming in the warm Pacific water, I sat with a cold beer at Villa Leonor and painted plein aire from my table. It doesn't get more fun than this! I was particularly drawn to the vibrant yellow outbuilding set against the brilliant magenta bougainvillea and tropical greens. And so I painted them. I'd inadvertently forgotten to bring along a pencil – so I used some ink line. I love the immediacy of watercolor – simply a small palette, a permanent black pen, a couple of brushes, my sketchbook and the water the waiter brings. Next time I'll try to remember a pencil, too.
The 10 Minute Fast Sketch
One of the best things we did in the workshop was fast sketches. Every day we'd do a quick, no pre-planning sketch. On our first day, we gave ourselves nearly a half hour – and found that was too long. Our 10 minute sketches were the best – and I like this one I did! A time limit cuts through all the hesitancy and pulls from what you already know even if you don't know you know it.
Iguana in Light, Unfinished
Painting this iguana in full sun offered a chance to work with light, shade, shadow and reflected light. Though it is still unfinished, the subject brought lots of examples into our awareness.
Beach Leaves, Unfinished
I started this painting when we went to the beach – and now that I'm ready to do some finishing, I don't see the need. Funny how that happens. I deliberately selected an a very loose analogous palette that included just four paints: New Gamboge, Nickel Azo yellow, Ultramarine Turquoise and Cobalt blue. I very much enjoy the simplicity of this palette and thought I thought I would miss the magentas, I don't. This was painted plein aire just taking on the leaves among the trees all around us.
Palm and Water
A few weeks later, in February I enjoyed a visit from my sister and brother in law that included, again a trip to the beach and my favorite spot there. Along the path to the beach is a slow moving river and I loved the drooping, dying palm frond that graced the rippling water – rich with golds and greens and slivers of sky reflection. With my photo on my iphone, I left them to explore other trails and the warm Pacific while I found a spot in the bar and ordered an Imperial Light over hielo (ice). With my sketchbook, watercolors and intermittent glances at my iphone photo – I painted.
To me it speaks of life and death, and I do love this painting.
Orchid Pigments 1 and 2
The first day of my March Intensive was set up to explore the pigments we have – and I did a demo of an orchid using about fourteen of my varied pigments, explaining each in terms of color, intensity and how it behaves – what it does in a wash. What fun we had with this! I even used some Cad orange and Manganese blue!
Later, in my Family Intensive we used just six paints that I provided – Nickel Azo Yellow, Quinacridone Sienna, Quinacridone Magenta, Ultramarine Blue, Cobalt Blue and Ultramarine Turquoise – three sets of near complements.  I used only these in Orchid Pigments 2.  How interesting!
I think I like the limited palette of six better than the wider choice of fourteen!
Scarlet Flight
The next day we studied color relationships and schemes – and took flight! Almost literally. I selected a subject I loved – the scarlet macaw and a tetradic color scheme of Quin Magenta and its complement Ultramarine Turqouise; Ultramarine Blue and complementary Nickel Azo. I did add in some cobalt blue after it was all dry – to paint the transparent cast shadow as a prelude to Day 3 when we would be studying light, shade and shadow. The background evolved from a combination of the leaves and the feathers visible in the photo.
Pigeon Peace
We decided that painting a shite subject would give us ample opportunities to really understand light, shade, shadow and reflected light. The three transparent luminous primaries – cobalt blue, rose madder genuine and aureolin yellow we our pigments – and we all had great fun with this.
While we were studying light we noticed the dark heart shaped leaves in my garden – backlighted as well as cast shadows and direct light.
Heart Glow
A challenging subject for us all. My students were experienced enough to want to dive into it – and so we did. I am unsure if my result actually communicates the backlight – but then maybe nothing could except the photograph.
Beach Sketch on Ampersand
I and my Intensive students headed off to Villa Leonor to paint and play at the beach for a day – and I returned to the Ampersand Gesso Board for one more try…  I had kept this piece of board for several years and when I removed the plastic covering, I found the surface of the board was damaged. Nothing helps a painter more than reduced expectations!  I thoroughly enjoyed the time painting out in the shade and the blue leaf subject simply erupted in color!
Sloth on Vine, unfinished
Painted on the last day of my last Intensive for this season – the Family Painting Intensive I co-created with Nancy, Paul, daughter Anneka and boyfriend, Blake -we continued painting in the outdoor studio while searching the trees for a chance sighting of the illusive three toed sloth. This photo verified its existence.
My painting was just one of the lively sloth paintings for the day! Six paints and simply ran out of time….
How I love the three toed sloth!
Leonor Breeze
While the family of four body surfed in the warm waters of Playa Ballena, I found a quiet spot with a view past the bar activity at lovely Villa Leonor. From my table, while sipping an Imperial Light over ice, I could barely see a distant palm with a frond moving gently in the breeze. The clusters of coconuts appeared. Disappeared. Reappeared.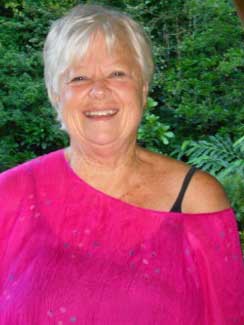 Quietly I entered the zone of the right brain – and have no idea how long I was there. Without memory of the process, I have the painting itself that records the time.
When the family joined me, I saw what I had painted.
Ah, the zone….I smiled knowing that my Muse was with me again.
I am thinking that I will find some days to drive over the Tinamaste mountains to the lovely Pacific – and down to Playa Ballena and Villa Leonor. There I will see if the Muse will visit again.
I am remembering that Frank so loved the sea. Maybe, while I paint he will again be playing in the surf.