About Jan Hart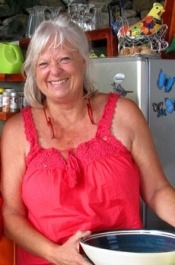 Jan grew up in the chaparral areas of Southern California with a love for nature and the out of doors. Her education background includes a Bachelor of Arts degree in Zoology and a Master of Arts degree in Architecture. Jan has studied art under various locally and nationally acclaimed artists. While she resided in the Pacific Northwest, she taught design, drawing and watercolor privately, at the University of Oregon and Washington and at Cornish College of the Arts. In 1993 she left the northwest to be closer to the landscapes of Georgia O'Keeffe in northern New Mexico.
For 15 years Jan Hart made her home in Española, just north of Santa Fe, New Mexico. As a self-supporting artist, Jan taught watercolor from her studio at Ranchito San Pedro, at Coconino College in Flagstaff, Arizona, in Costa Rica and other places that beckoned. Hit hard by the financial crisis of 2008, Jan moved herself and family of dogs and parrots from New Mexico to southern Costa Rica, where she teaches, paints and writes from her home high above the town of San Isidro de El General.
In Costa Rica Jan met the love of her life, Frank Thompson, a fellow ExPat from Canada. They were married on her 70th birthday. Sadly, Frank passed away suddenly in 2014. Now Jan's passions include writing as well as teaching watercolor and painting. Having completed the rebuilding of her Tico house, her outdoor studio and cabinas as well as Frank's house she is now comfortable with her activities, surrounded by her animal pals. Her home at Casa de Corazon now has two cabinas as well as Frank's house, Casa Tranquila that are suitable for artists and travelers interested in the spectacular landscapes and destination points all her Costa Rican home.
Jan's first book, The Watercolor Artist's Guide to Exceptional Color, published in 2007 continues to be a favorite among watercolor artists world wide and contains much of her experience and insight into color and watercolor pigments from her 30+ years of teaching. Her ebook, What Do You Mean I Can't Move to Costa Rica is available through this website. Her most recent book, written after the loss of her husband, Frank is titled, A Woman Awakens: Life, AfterLife and is available through amazon.com.
Articles Written About Jan Hart
Jan Hart Imparts the Magic of Watercolor, HotPress July-August, The Northwest Watercolor Society Newsletter, July-August 2014
View PDF
Jan's Animal Family Includes
Seurat. Seurat is named for his obvious markings after the Neo-impressionist painter, Georges Seurat who developed the technique of pointillism – little dots of color. A mix of Bassett and Blue Healer, he is short in the legs but very long on personality and loyalty. He arrived in Costa Rica with his best pal, Livvie before I arrived, and has given me so much love, protection and company that I must confess, he is my very best constant companion. While Livvie, my sweet and protective German Shepherd was my first dog love, Seurat stepped quickly into her place and works hard to keep things running smoothly at the house. He protects the parrots, me, and the property while making his rounds to neighbor dogs to be sure that all is well. And – one of his best qualities. He only barks if necessary! I cannot imagine my life without him.
Sage. Sage, an African Grey parrot always knows what Jan is up to in her house. The strategically located aviary that he shares with his friends, Beak and Flash allow him to see into her office, bedroom, bathroom, studio and kitchen if the door is open…. His vast vocabulary enables him to keep in contact verbally. If he senses something amiss, he inquires, 'Are you okay?' and if he notes Jan spending too much time with Seurat, he mutters in a disparaging tone, 'Dogs!'. He's also pretty good at helping Seurat guard the house when Jan is away with his chirpy, "Hellooooo" when he hears someone at the back door.
Frida Frida is a shepherd mix rescued from the streets of San Isidro and given an new chance at life. Diagnosed with Erhlichiosis, an often fatal disease carried by the brown tick, she is doing well and loving life. Her main job is to protect Casa de Corazon – and she does this very well!
Beak and Xena and Flash.  The parrots that accompanied Jan to Costa Rica have each passed on in their own ways though they leave indelible memories and are missed daily.
The rest of Jan's animal pals have names but live in the wild – usually outside my house but often in and out of my outdoor studio. They include quite a variety! From raccous Kerry the Kiskadee and his tanager friends to seldom seen Rosie the tarantula, they keep life interesting and always unexpected. One morning there was a lovely three toed sloth moving ever so slowly up the cabina handrails. Jan says that one of the main reasons she chose to live in Costa Rica was for the proximity to the animals!