On Friday morning, June 19, I hoped to get an early start to the Osa from my place – but even starting at 5 a.m., I wasn't finally packed until 10 a.m. I put the little paintings I had done in a box and into my car, along with luggage and paint supplies and headed off towards Dominical over the Talamanca range of coastal mountains. Driving down the coast highway, I loved catching the quick glimpses of the beautiful Pacific. The morning was sunny and though the drive would be well over three hours, I was enjoying it.
The next morning at the Festival, I set up a table among a few other artists at the far end of the soccer field. Nearby was a table covered with Borucan masks made by several Borucan women. I selected a beautiful carved balsa wood mask from the artist, Lourdes Frasser Rojas, who told me about the symbolism of the mask's birds – the Macaw, Mot Mot and Toucan.
Each of the birds were protectors for the home and inhabitants. (These indigenous people of Costa Rica, known for their arts and craftworks, can be viewed on http://borucacrafts.com)
Also nearby were three Costa Rica women (Ticas) who operated a women-owned tree nursery on the Osa Peninsula. They told me that the women own and manage the nursery, but they hire a few men to carry the heavy things. I liked the company a lot and thought about how much the people here in Costa Rica have to teach me! For two days I painted and watched the festivities while the music played and the sun and rain swept across the Peninsula and soccer field. On Monday morning it was time to make the return drive to San Isidro and I hoped to be home by noon. It didn't quite work out that way. I was in line for an even greater lesson.
I packed up my car and headed out on the lonely Osa road that would get me back to the coastal highway where I would turn north towards Dominical and then back over the mountains to San Isidro. The main road on the Osa Peninsula was a mix of some paved areas followed by packed dirt that wound along through the sparsely populated lowland forest next to the Golfo Dulce. Periodically, I could glimpse the water and distant Costa Rica mainland. As I drove, I noticed an occasional sputter and pause when I pressed the accelerator. In a while it happened more frequently and eventually my car would stall. I could restart it and continue on, but the problem seemed to be getting worse, not better. I hoped I'd be able to get to the one gas station at the junction to the coast highway at Chacarita – about an hour or so farther. The car had other ideas. Finally it just quit. I was surrounded by green as far as I could see and going uphill. All I could do is put it in park and open the hood. I had a cell phone, but there was no cell service. And there appeared to be no other cars on the road that morning.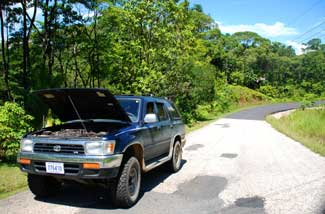 Finally, I decided my only option was to walk for help. After about a half mile, I saw a Tico house ahead. Approaching the house, I saw that the windows were shuttered and the door locked, but I called 'Hola' anyway. A woman came around from behind the house. She said her name was Blanca. I asked if she had a phone. "No". A car? "No". A husband? "No". Hmm. I explained in my rudimentary Spanish what had happened. She nodded in understanding and then walked past me to tear some branches from a bush as she headed up the road toward my stalled vehicle. I scrambled behind her. When we reached the car she placed branches several yards in front of and behind the car on the road in the universal Costa Rican signal to slow down for a stalled car or accident ahead. Then we walked back to her house. I had no idea what next to do and felt a slow rise of panic and distress. I asked Blanca what we should do and she simply replied, "We wait. Tranquila." Wait? For what? My American mind was racing through any and all scenarios and none seemed viable. Eventually, 'wait' was the only option possible. I knew I couldn't walk the 50 miles back to civilization by myself and since I had no way to call for help, waiting was what I'd have to settle for.
I sat in the rocking chair on the porch. After about a half hour, we heard a vehicle approach from the north. An ICE truck rounded the curve and stopped in response to our arm gestures. I was elated. ICE stands for Costa Rican Institute of Electricity and is the only electric company in Costa Rica. It is also the largest and most widely used telecommunications company in the country – and I have found them to be very responsive! Two men got out of the white truck and walked with us to the stalled car. Peering under the open hood, they immediately saw the problem and announced that I'd need a mechanic to fix it. They went on to say that when they got to their destination in Puerto Jimenez – in about an hour, "mas o menos", they would look around for a mechanic and send him back to help. In the meantime, they would tow my car to the side of the road in front of Blanca's house, which they did – breaking the rope several times. I felt grateful, but not particularly hopeful. Again my American mind began running through the litany of 'What ifs?' that it seemed Ticos don't think about. What if they forget? What if they don't find a mechanic? What if they do find a mechanic and he cannot come to help? What if he doesn't want to come? And on and on…..culminating with, 'and how will we know?' I realized that I was being asked to just trust that it would all work out.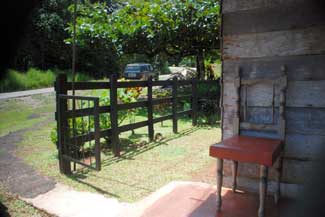 Trust and I have often had a tumultuous, on and off again relationship, but I took a deep breath and followed Blanca back to her porch, where I sat again in the rocking chair. Blanca actually seemed hopeful and then said again, "Tranquila." I imagine that this was in response to my worried expression. I actually hear it a little too often from my Tico neighbors when I'm concerned about something. She went on to say that now wasn't the time to worry. It will take them an hour toget to Puerto Jimenez and then, if they find a mechanic, another hour for him to get here. So – we have two hours in which to eat and rest. In two and a half hours, you can start to worry, she said matter-of -factly. Ah, timed worry. A concept I hadn't considered previously. I followed her inside the house as she began to prepare a meal while I watched in fascination. In about a half hour she put a plate in front of me with gallo pinto (rice and beans), some pork and a salad of lettuce and tomatoes with a glass of lemonade. It was delicious and I marveled at her generosity and kindness in sharing what little she had with a stranger.
Blanca then offered her bed for me to rest upon. I declined with a sincere thank you and told her I'd prefer to sit on the porch and read. At around 2 p.m. Blanca reappeared on the porch as if to indicate that it was now time to worry. I got up and decided the best thing I could do was stand by the car for a while. Just then Blanca heard a car coming that she seemed to recognize. She ran to the road to stop the car, which was driven by a Gringa who lives on the Osa and who I had met briefly at the Festival. The woman said she would take me to Los Mogos a way up the road where there was a Pulperia (little grocery) that was located high enough to get a cellular signal. Waving to Blanca, I climbed into the car and off we went. There, at Los Mogos she got the phone number of the gas station in Chacarita, and someone there gave her the number of a mechanic named Miguel, whom she called. He agreed to come meet me at Los Mogos. Smiling, she waved good bye, shouted good luck and was off down the road.
I sat on a brown metal chair in front of the Pulperia to wait again. I did call a few friends, who couldn't help, but whose voices reassured me that I wasn't completely lost forever. At long last Miguel arrived with a big smile and we drove in his truck back to Blanca's. He knew exactly what it was – the air intake manifold had come loose. He put it back together and tightened it, but part of it had apparently chipped off due to a previous patch job of worn tape. I needed a new one. I grabbed one of my small paintings to give to Blanca as a heart-felt thank you, hugged her and bid farewell while hoping that the tightened manifold would hold as we headed slowly on to Chacarita and then south to his shop –on the coast highway, farther away from San Isidro. It had begun to rain. Miguel suggested that we leave my car at his shop and go to Ciudad Neilly, which is nearly on the Panama border. He felt certain he could find a replacement manifold for my car there. The rain was pelting the windshield furiously as we drove. He glanced at me and said the now familiar word, "Tranquila!"' I was finally successful in banishing Worry by morphing it into Adventure. We stopped at four places and none had the part we needed. Finally feeling exhausted and exasperated, I told Miguel I thought we should try to patch up the existing manifold and see if I could 'limp' home.
There was only about a half hour of daylight left when I finally drove out of Miguel's shop and headed my car north towards home. I got all the way (10 minutes) to the Chacarita station before the car stalled again. This time I had Miguel's cell number and there was cell service. In minutes he drove up and marched determinedly into the gas station store, returning with emergency tools – super glue and plastic ties! I smiled to myself thinking of my own father who would have greatly approved of the strategy! He and I had essentially built my Model A Ford years and years before with pieces and parts from junkyards and I had more than once fixed a clutch with bailing wire! I held the manifold in place while the glue set and Miguel tightened the ties. After a quick hug, some dinero and a prayer, I started off for home, which was about two plus hours away – in the pouring rain. Along the way there were crews already fixing a downed power line, a truck that had run off the road and down an embankment and a river that was threatening to engulf the road. But I and my super glued and plastic-tied air manifold were on an Adventure – made it home by 9 p.m.! My bed never felt quite so wonderful!
I now have Miguel's number firmly installed on my cell phone for my next trip to the Osa! I'm quicker to remind myself, "Tranquila Jan" when the going gets rough. It also helps to try to remember that this is all an Adventure.