February 2014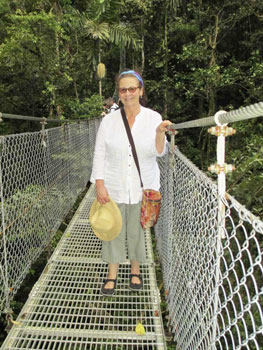 Written by Claudia Michael after the workshop with Jan in Costa Rica, February, 2014.
I had a wonderful customized three and a half days with EcoTico Tours aka Francisco.
Day 1
We drove to Arenal and stayed at the cleanest B&B owned by Francisco's friend Taide (Cabinas Dona Alicia).
Francisco has the keenest eyes ever – he stopped for almost every wild orchid and bird or wildlife that made an appearance. We had excellent meals everywhere (I miss the sea bass) .
We hiked the park with the hanging bridges. He accommodated any stops I wanted to make to take pictures.
Instead of going to the resort hot springs, we went to the Tico hot springs which was free and filled with locals enjoying the warm rushing water. It was great!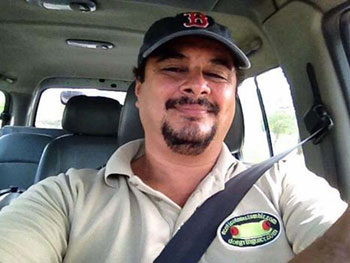 Day 2: MonteVerde
Onward to MonteVerde.
The landscape was absolutely stunning as we took to the road. Francisco entertained me with stories
about his life and friends he has made over the years.
Since there were some small showers on route, Francisco, opened the back of the van so I would have some
protection painting "en plein air". He even took out his machete to cut some tall grasses that were blocking my
view. He was quite accommodating. His creation of the traveling studio, as he called it, gave him the opportunity to take a cat nap in the front seat, while I painted.
Day 3: Saint Helena
Hiked Saint Helena area in the early morning rain and continued on our way back to Melrost, via Sarchi the town of traditional arts.
Day 4:  San Jose
Since my flight wasn't until the afternoon, Francisco offered to take me to San Jose to see the National Theater and Gold Museum before heading off to the airport. I recommend both of these sights, which were a nice relaxing way to end my adventure.
Unfortunately, because of weather, it took me three days to get home – not so relaxing.
Basically, I want to let you all know that I highly recommend touring with Francisco. He will customize the tour to suit your needs. He is very intuitive in suggesting activities that you might not even know you want to do. If you return to paint with Jan next year, consider extending your stay with him, you won't regret it.
Claudia
http://claudialmichael.wix.com/claudia-michael-art
You can contact Francisco by email here