The house began in lively conversation and two pieces of paper with a pencil in Frank's hand and a pen in mine at my kitchen table. Our combination of abilities worked beautifully – my expertise and training in architecture and Frank's spatial abilities and wonderful sense of design. Plus he knew exactly what he wanted! It would be small – fitting into the space at the front of my property bordering the carport and just outside my gate. Frank's house would be 18′ x 18′ or 324 square feet.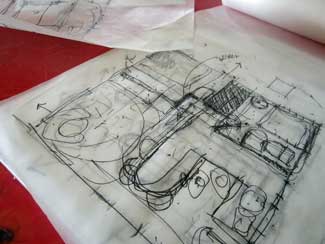 We had already decided we wanted to live LAT – living alone together, a concept popular in Europe but not quite as popular in North America. But for us it sounded perfect. We didn't want to ruin what we had and both of us required a significant amount of alone time. Instead of sharing my Tico house, we would build Frank his own private little house that he could have all to his own with his political DVDs and a kitchen that was in the center of the house with views out in all directions. We would share my house, too as well as the outdoor studio and kitchen.
Frank was finally ready to sell the farm in 2012. Though it was a place he had loved and tended for nearly 20 years, he was growing weary. At the end of the year Walter came to work as the Farm Manager, which gave Frank more ability to begin moving away from the farm work, volunteer program and all the upkeep.
We began building right after the first of the year, 2014 – before selling the farm. I had saved up about $13,000 – which was enough to begin . The views were in all directions and Frank loved imagining himself cooking while watching a DVD and looking up to see out in about 225 degrees. It was wonderful to watch him get so excited about his own house designed entirely around the kitchen!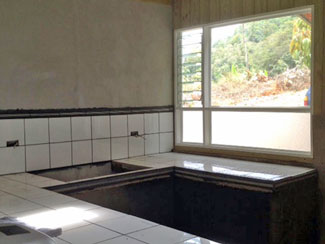 Frank unexpected death on March 10 changed everything. I wasn't sure how to proceed. I knew that if I stopped the building process it may not continue. Oscar, my wonderful neighbor builder would need to find a new job, probably in Panama. The construction momentum was proceeding smoothly and I decided to keep it going. And truthfully, I found it comforting to have my builders arrive at 6 a.m. every morning with their familiar greeting and big smiles, "jan! Como amanicio?' Basic translation is 'Jan, how did you get up this morning?'
I am asked now what Frank's House will be used for. I reply that we shall see. It may be a wonderful little retreat house for a writer, a painter, a person wanting a peaceful place to stay for awhile. Or it may be a sometimes rental. Or it could be a caretaker's cottage. It will be whatever it is called on to be. And inside will be Frank's world globe and so many of his books as well as his wonderful DVD collection.  When will it be finished?  I smile at the quesiton and one of my first encounters with Tico wisdom when I asked Caesar a few years ago when the cabinas would be finished. He replied with a puzzled look on his face, "But Jan, how can I know when they will be finished? We will know when they are finished." Exactly.