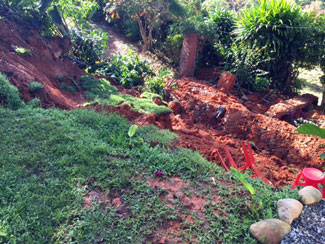 Two weeks after and it feels like I am standing on the edge of a precipice, looking down and wondering what will happen next. And actually – I am.
On the 5th of October Tropical Storm ravaged through Central America with floods, mudslides and raging rivers that carried off or crushed beings and bridges and houses and trees. The Pan Am highway over the mountains is impassable and may take months to repair; the Coast Highway accessible only through back roads around a major bridge that no longer exists. (A new bridge is being built now and will hopefully be finished in a week.)
With my feet just a foot from the edge, I feel my thoughts slip silently down the incline toward fear. I try not to let fear take hold, as I once again go through my answers to all of the 'what ifs' by responding to each with 'and what if instead….?' Then I visualize what it will look like when the planned gavione wall is finished, grass and flowers replanted, all stabilized, all done.
Eventually I turn to walk the few steps back into my house and check posts on Facebook and Tico Times to see how everyone else is doing. I find so many are struggling. Okay – time to move my thoughts to a more positive place and I mentally tick off the things I still have that so many others don't. My house is still standing – with electricity and internet and running water. And along with the house there are still standing – the studio, Frank's house, the infinity deck, the outdoor shower and the cabinas. True, my house and Frank's house remain threatened by their proximities to the gaping mudslide wound, now covered with black plastic. But as of right now – all is quiet.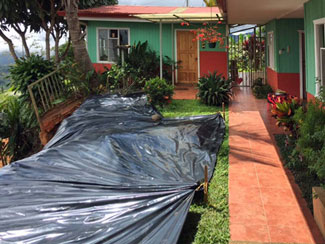 And just as swiftly, my mind flashes back to the thunderous landslide that swept most of the front yard down onto my neighbor's access driveway some 20 feet below. It all went. The bougainvilleas, the avocado tree, the reinforced concrete and the gavione (rock filled wire cages) retaining wall that just couldn't hold back the pressure of the water. Billy, my Tico neighbor at La Princesa Hotel down the road – and kind of like a son to me here – came immediately when I called that Wednesday morning, just after 8 a.m. There was nothing we could do until it stopped raining. And when Thursday morning opened with bright sunshine and a clear sky, Billy found a backhoe operator with a tow truck – and by 8:30 we were digging the neighbors' driveway out and carrying away the truckloads of wrecked debris. Hours and loads of my wrecked landscape passed as I mostly stood at the top of the precipice and watched the activity below. Most of the day I was in shocked disbelief. Looking down at the jagged edge of the front yard grass my eyes fell upon a bit of bright color. There, close to my toes was just one fushia hued bougainvillea blossom left behind, lying alone. Tears began again.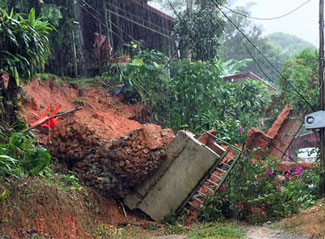 So – what had happened? Why had this particular Tropical Storm created such havoc? Costa Rica had survived several major tropical storms or cyclones in the past memory of those who live here and none had been this bad. In fact it was Alma, the first cyclone/tropical storm of the 2008 Pacific season that sheared off the front yard just 3 months after I purchased it. I had first planted the slope with vegetation to hold the earth – and it worked. Then, in 2015 I decided I wanted a larger front yard with a retaining wall. Sadly, through misunderstanding, mis communication and faulty design, the wall failed once and was rebuilt. But even the reinforced concrete and extra measures were incapable of holding back the soil filled to capacity with rainfall from this September. The days preceding Nate received up to twice their normal rainfall. And then Nate brought several days and nights of nonstop rain to this mountainous country that simply could not hold together any longer. It crashed.
Hundreds of people lost their houses all over the country either by mudslides or rivers that simply exploded their ways through and took everything in their paths. There were multiple landslides alone on the 80 mile Pan American highway over the Cerro Del Muerte mountains that connects San Jose to the Southern zone, where I live. Still we had another route – via the coast – but the La Palma bridge was also washed away along with a bar/restaurant. The Southern zone has been isolated except for back roads since then. In other more remote areas, entire villages were swept clean of structures through the turbulent rivers carrying water from the highest regions. Over 7000 people remain in shelters.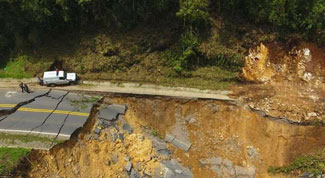 More stories of devastation and isolation poured in. Editor, Katherine Stanley of the Tico Times published this account that included a few of my words. http://www.ticotimes.net/2017/10/13/voices-nate-five-first-hand-accounts-costa-ricas-devastating-storm And there was a beautiful article by Joseph Heithaus 'In Costa Rica, Loss in the Clouds' published by NYTimes about Monteverde, Costa Rica's crown emerald jewel of biodiversity that was cut off and isolated. Read more here: https://www.nytimes.com/2017/10/14/opinion/sunday/costa-rica-nate-cloud-forest.html?smid=fb-share
Rebuilding is now in full swing throughout the country. An example is the village of Chispas–up on the way to Mount Chirippo, just across the valley from me–that was cut off when their only suspended bridge access collapsed leaving them stranded. Already the footbridge has been rebuilt with the help of ExPats joining with Ticos in one of many cooperative missions. And one of the first things the Costa Rica government acted on beyond the municipal work crews throughout the country? Providing money for school supplies for those students whose families had suffered serious loss so that they could continue their education. Now that is progressive prioritization.
Now I am left with a kind of Survivor's Guilt. It is a peculiar place to find myself, though not unfamiliar. I recognize the similarity in my feelings of grief and vulnerability when I survived a near drowning in a rafting disaster over 30 years ago. Some of it is rational as in ' I should have built the retaining wall better. The first time.' But the guilt felt by a survivor can also be irrational and simply the result of uncontrollable circumstances. I understand that I am feeling guilty for getting off relatively easy when others lost so much. And I sometimes feel shame for feeling so bad. What a vicious cycle these thoughts can create.
I find that the experience has once more been taken to heart. My heart. I look around to see the living beings that have been touched. So often we see and admire people and animals who appear to get up, dust themselves off and get on with living after suffering a trauma. A death. A crash. An end. And now it appears that we as humans find our lives are filled with staccato paced calamities. We celebrate overcoming. And I think that is a good thing. But it is important also to look around at the edges, too. Some of us don't get back up easily. And we often find ourselves on a roller coaster ride of ups and downs for awhile. The dust will have long settled before we stand solidly tall again. It takes some time.
In the meantime I take heart when I watch this tiny country, Costa Rica showing the way forward – doing so well rebuilding bridges, roads and houses. Volunteer efforts are widespread and deeply appreciated. Just hours after my front yard crashed down onto my neighbors' access road below, there were people helping. I wrote about it. I lived it. I am now getting help with how to rebuild it. Advice from engineers, construction folks, landscape architects and others has been compiled and we now have a good plan that will be led by Billy and hopefully will begin the second week of November. (I'll detail more as the next email.)
After my Survivor's Guilt mind admonishes myself that I 'should' be better or more grateful or doing more or..or… I wrap my arms around my dogs and reach for the silent place of shared reassurance. It may still take time and continued caring along with great patience to ease the after effects of my guilt as a survivor, but I'm working on it.
And I do have lovely mornings that remind me again why I love being here in this place.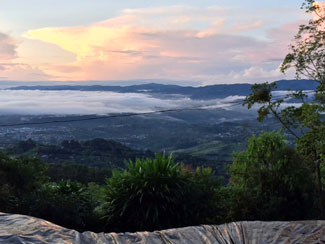 Yesterday morning shortly after 5 a.m. I walked out my front door with my cup of coffee just like every morning – to sit in my rocking chair and gaze across the valley at the distant Tinnemaste Ridge. Rising clouds from the Pacific were catching the first colors of sunrise. And suddenly I realized that my spectacular 'borrowed landscape' view – could be re-framed as a metaphor for a sense of time. I could choose to see the faraway as the future–distance in miles or kilometers as a metaphor for distance in time. Then, when I feel so confronted by the shock of the black plastic covered precipice below my toes I could shift my eyes and mind upward to the beauty that is on its way.
This view can hold my future while I rebuild in the present.