Inside An Intensive with Jan at Casa de Corazon
Your intensive with Jan begins when you arrive at her home, Casa de Corazon in the southern zone of Costa Rica but you adventure begins with your arrival in Costa Rica. You'll feel the change in the air, the friendliness of the Costa Ricans (Ticos) way of life and you'll hear the term Pura Vida as a hello, a goodbye and general exclamation of a simpler way to live. Once you are registered for an Intensive, Jan will connect you to trusted people who will help.
Sunday Arrival and Getting Settled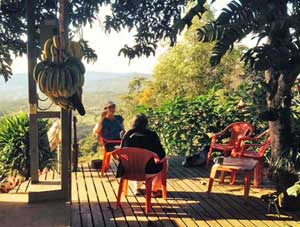 Jan's home, Casa de Corazon is located about 3 hours south of San Jose on the Pan American Highway over the Cerro del Muerte (Mountain of Death – so named for early foot travelers who died of exposure at the 10,000 ft. elevations) to her city, San Isidro de El General.
Sunday is your day to travel to Jan's home and there are a few ways to get there. (See the options below).
After you arrive at Jan's, there will be time to pick up a few things you might want at a nearby grocery store, go to an ATM machine if you need it and settle into your cabina or casita at Jan's. The balmy air and gentle breeze can be a soothing finish to your day of travel and sightseeing as we gather on the Infinity deck at sunset (about 5:30pm in the tropics). There we can begin our plans for the days ahead just as the lights of the city below begin to light up the night. We'll go in to town to have dinner – or decide to enjoy one of our local neighborhood places.
Our Days… Painting and Learning and More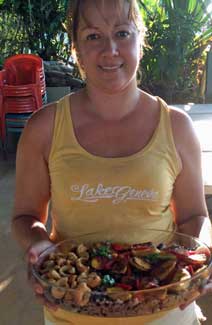 Each of days together begin with coffee in the studio by 7:00am at the latest. (The sun will rise between 5:30 and 6 – and truly the most beautiful time of the day begins then). Some mornings, Anita will arrive at around 7 with gallo pinto for our breakfast (Gallo pinto is the Tico favorite rice and beans breakfast dish) in the studio by 8. Our time in the studio is from 9 – 4, and we'll fit lunch in there too. Each day will be designed by us according to what we decide to paint – from subject matter to painting concepts and will always include color and paint decisions. Each morning Jan will present a subject and a demo and each morning after Monday will begin with a critique of the previous day's work. We'll decide about our lunches and dinners out as we go. Jan will likely be in bed by 8…
Possible Subject and Adventure Syllabus:
Monday: Color, Color Relationships and Pigments. Painting in the studio.
Tuedsay: Color Schemes, Painting to "Adolescence". Painting in the studio after critiques of Monday's 'Adolescents'.
Wednesday: The Watercolor Sketch, Plein Aire. Outing to Papas (local favorite restaurant by the river) for plein aire painting and lunch or early dinner.
Thursday: Light, Shade, Shadow and Reflected Light. Outing to our local feria (outdoor farmer's market which is the largest in Costa Rica)
Friday: Finishing Techniques, Glazing Etc. Trip to the beach to Villa Leonor for lunch, painting, playing in the Pacific.
Saturday: Return to San Jose or continue your adventure in Costa Rica plans as you design. Several students have extended their time in Costa Rica to visit the northern attractions like Arenal Volcano, Monteverde, etc. Francisco Breakfast in the studio as usual. After breakfast, Jan will drive you to town for your Musoc bus back to San Jose. (We'll purchase the bus tickets in town earlier in the week to get you good reserved seats and coordinate with Marco to meet you at the bus station and get you to Melrost).
Getting to and from San Isidro de El General
San Isidro de El General is the largest city in the southern zone of Costa Rica and located 75 KM (48 miles) south of San Jose.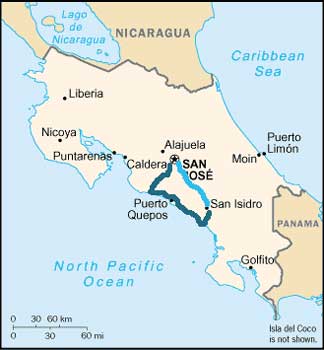 There are at least three ways to get to Jan's place: Car. Bus. Taxi. Plane. On land, the most direct route is over the Cerro del Muerte shown in light blue on the map. Coast route is in dark blue.
Rental Car. You choose to rent a car in San Jose and drive yourself. Those who love the driving adventure and plan to travel on their own after the Intensive choose this. Check online for rental agencies in San Jose.
Taxi / Van. Francisco Torres has provided trusted van / taxi service for my students between San Jose and San Isidro for 9 years. He speaks fluent English and is a memorable Tico character with quite a few stories to tell. Please email me for contact information for Francisco.

Cost. From Melrost Inn to the top of the mountain to meet Jan. $150 / car. If you are traveling with others, this is an affordable and good way to see the sights and have an enjoyable trip over the mountains. We'll meet at the Chespiros Restaurant at the top for a great Tico lunch! Francisco also offers tours of other regions of Costa Rica. One student had this to say about her time with Francisco after a workshop. http://janhart.com/index.php/2014/02/03/costa-rica-custom-tour-francisco/

Bus. Musoc bus offers a modern and direct bus ride form San Isidro to San Jose several times a day. Very affordable (about $12 / person one way) and we can coordinate with my friend and favorite taxi driver, Marco Jimenez. He can pick you up at the Melrost, get you tickets for the bus and then take you right to the bus station and help you aboard. Please email me for contact information.

Cost. Bus ticket – about $12 / person plus tip if Marco buys it for you through his connections. Taxi ride between Melrost and bus – about $30 plus tip.

Sansa Airlines. Recently there have been more flights from San Jose to San Isidro. Our airport is very small, but now receiving flights from San Jose twice a day including Sunday.

Cost – about $100; Limit of 30# luggage weight. 1/2 hour flight that is comfortable and scenic.
Reservations: (506) 2290-4100
From USA: 1-877-767-2672